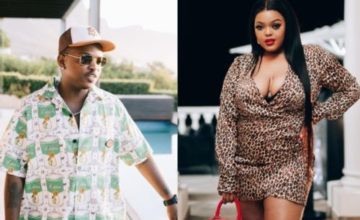 We never saw this one coming as DBN Gogo finally reveals she is dating Focalistic.
Mandisa Radebe popularly known as DBN Gogo, up until 14th February, never went public on her love life. So it came as a surprise to see her all mushy with rapper Focalistic out of the blue.
The Amapiano artists spent quality time together on Valentines day and she uploaded a video of the gifts she received together with her shy lover on social media.
The perfect end ❤️ pic.twitter.com/wUq84KaKu3

— uMaka Mah 👵🏽 (@DBNGOGO) February 15, 2022
News of the lovebirds has gone viral and their fans have come out to wish them well.
DBN Gogo has a thing or two with presidents, as she happens to be President Cyril Ramophosa's niece and she has now added the President Ya Straata, Focalistic, to her circle.
Both DBN Gogo and Focalistic were the featured artists on Mas Musiq's song Sim Sima.