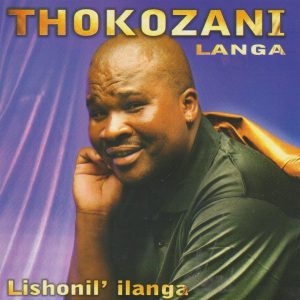 Download Thokozani Langa Lishonil'ilanga Album Zip
Thokozani Langa – Lishonil'ilanga Album Download. Legendary Maskandi musician Thokozani Langa remain unrelenting in his quest to make good music and this time, he's dropped "Lishonil'ilanga" Album.
"Lishonil'ilanga" is a 2006 compilation of Thokozani Langa but the songs of this unique album have remained ever green.
Thokozani Langa is signed to Bula Music and together, they have churned out great songs.
Listen and download Thokozani Langa – Lishonil'ilanga Mp3 free
Thokozani Langa – Lishonil'ilanga Mp3 Download
Thokozani Langa – Uyinking'umuntu Mp3 Download
Thokozani Langa – Umemulo Mp3 Download
Thokozani Langa – Ingodusi Mp3 Download
Thokozani Langa – Kunzim'egoli Mp3 Download
Thokozani Langa – Umateta Angehle Mp3 Download
Thokozani Langa – Stress Mp3 Download
Thokozani Langa – Uzosala Nobani Mp3 Download
Thokozani Langa – Amadunga Muzi Mp3 Download
Thokozani Langa – Imfihlo Yami Mp3 Download
Thokozani Langa – Umalindi Mp3 Download
Thokozani Langa – Kudliwa Imali Mp3 Download
Thokozani Langa – Budget Mp3 Download
Thokozani Langa – Remix Stress Mp3 Download