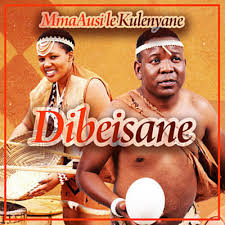 Download Mma Ausi Dibeisane Album Zip
Mma Ausi – Dibeisane Album Download. Mma Ausi is in the habit of making hits traditional South African music and she's dropped a recent compilation "Dibeisane".
"Dibeisane" is an eight track album with several hit tracks, Mma Ausi dropped this in 2017 but it has remained relevant.
Check out Mma Ausi Le Kulenyane – Dibeisane Album Tracklist
Mma Ausi Le Kulenyane – Sephiri Mp3 Download
Mma Ausi Le Kulenyane – Phikoko Mp3 Download
Mma Ausi Le Kulenyane – Dibeisane Mp3 Download
Mma Ausi Le Kulenyane – Tsutsube Mp3 Download
Mma Ausi Le Kulenyane – Seana Marena Mp3 Download
Mma Ausi Le Kulenyane – A Re Tlhabaneng Mp3 Download
Mma Ausi Le Kulenyane – Khubule Mp3 Download
Mma Ausi Le Kulenyane – A Ruri Le Boleletse Malome Mp3 Download